Mo Willems is one of my favorite author studies. I really enjoy using Willems because it brings a lot of fun to our classroom! His books are entertaining and the kids always have a great time. These highly engaging "Elephant & Piggie" themed activities are sure to be a hit with your young learners. See the list of suggestions below. Hope you enjoy!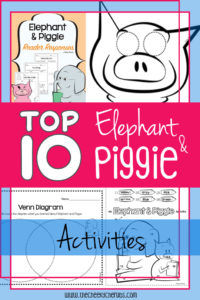 CHECK OUT THIS GREAT SELECTION:
#1 Elephant & Piggie – Extension Activities
Your students will enjoy these extension activities to use with Elephant and Piggie books by Mo Willems.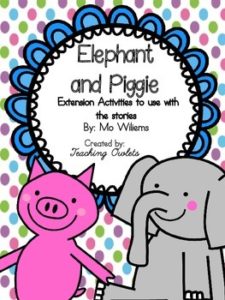 source: Teaching Owlets
#2 Elephant & Piggie – Mad Libs
We did this after reading Let's Go for a Drive! by Mo Willems. We were just focusing on nouns and verbs. The kids loved doing this work and sharing their final silly stories.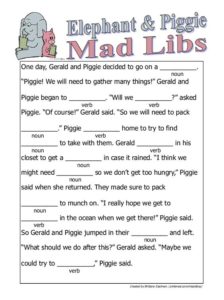 source: Brittany Eastman
#3 Elephant and Piggie Characteristics Printable
This printable works wonderfully with a mini-lesson on book characteristics/adjectives. Students will cut and paste adjectives to the correct character.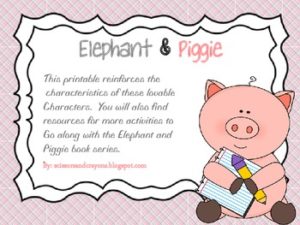 source: Scissors and Crayons
#4 "Elephant & Piggie" Can / Has / Is
Have fun with this easy and fun literacy extension craft activity based on the "Elephant & Piggie" book series by Mo Willems. This is a great resource to use for DOL (Daily Oral Language) practice, GLAD (Guided Acquisition Learning Design) work with ELL students or in a K-2 group setting.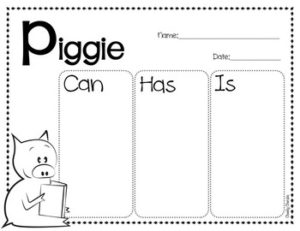 source: Cheeky Cherubs
#5 Back to School Class Book
Do your students LOVE 'Elephant and Piggie' books? Do you want to make a fun 'getting to know you' class book that your students will want to read over and over all year?! Look no more – you've found just that in this Famous Friends Back to School Class Book.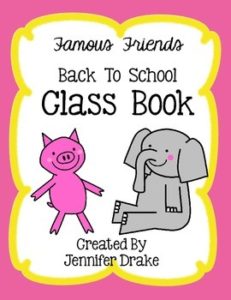 source: Jennifer Drake
#6 Elephant and Piggie Paper Bag Puppets
There are surprisingly few Elephant and Piggie crafts/activities to be found. When I searched Pinterest and Google, images of a paper bag craft kept coming up. But there was no soft copy template to be found! So I made my own. Enjoy!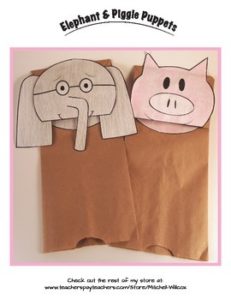 source: Mitchell Willcox
#7 Should We Share Our Ice Cream? A Class Book
This FREEBIE is for you to create a class book based in the adorable Elephant and Piggie book titled "Should I Share My Ice Cream?" by Mo Willems. Students will draw a picture of something and complete the sentence "Should I share my ________?" The last page says "YES! We should share because that is what friends do!" Perfect for the beginning of the year when you are creating your classroom climate.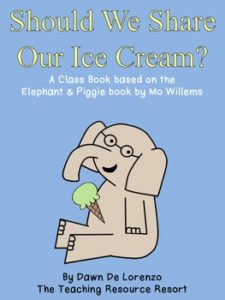 source: Teaching Resource Resort
#8 Election Freebie – Favorite Book Character Voting Pack
If you are looking for a fun way to introduce key election concepts and vocabulary to your primary grade students and host a non-controversial vote in your classroom, then this activity pack is just right!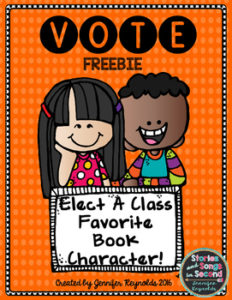 source: Jennifer Reynolds-Stories and Songs in Second
#9 Mo Willems and Friends
The best part of Mo Willems' books are the joy and fun that he brings to reading … something that is so important as we develop our students as "Reading Lovers"! Here is a little FREEBIE to help you celebrate this amazing author.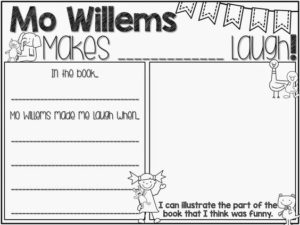 source: Mrs. Hope's Class
#10 Elephant and Piggie – Comic Strip Printable
I used the graphics from Mo Willems to create a few simple story outlines for the kids to create their own story. The students loved this idea and came up with some extremely creative stories.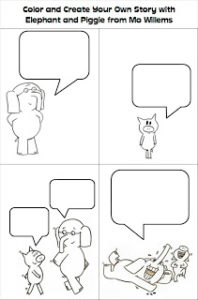 source: Erin Jackson
→ Would you like to see your material in posts like this one? A great way to do so is to participate in our Linky Parties. For directions on how to link up,  write to us. 😉
Below you will find some other great Spring materials to use with your kiddos. Check them out and link your own product!
Loading InLinkz ...
→ Teacher Authors needed for my blog:
Hi teachers! I am looking for teacher authors to write articles that will link well to products on my blog. Check out my schedule and let me know if you would like to have your POST/PRODUCT promoted here in the near future. 🙂
 Follow me on Instagram or sign up for our Newsletter and I'll let you know how.